As Expected, Vodafone Sells Its Stake in Verizon Wireless for $130 Billion, Giving Verizon Communications Full Ownership
Verizon Communications and Britain's Vodafone announced a deal Monday that will give Verizon total ownership of the wireless company that bears its name.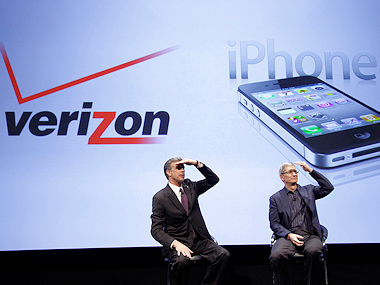 Vodafone will sell its 45 percent stake in Verizon Wireless for $130 billion, in what is said to be the third-largest corporate deal of all time.
The deal marks the end of a long, largely successful joint venture between the two companies. Both parties had, at various times, sought to buy out the other.
"Over the past 13 years, Verizon Wireless has been a key driver of our business strategy, and through our partnership with Vodafone, we have made Verizon Wireless into the premier wireless provider in the U.S," Verizon Communications CEO Lowell McAdam said in a statement. "The capabilities to wirelessly stream video and broadband in 4G LTE complement our other assets in fiber, global IP and cloud."
Verizon is paying Vodafone with a mixture of cash and stock. To fund the $58.9 billion cash portion, Verizon is getting financing from J.P. Morgan Chase, Morgan Stanley, Bank of America and Barclays. It will also issue $60.2 billion in stock, subject to certain price collars. It is also issuing $5 billion in notes to Vodafone, selling its stake in Vodafone Omnitel, and offering $2.5 billion in "other consideration."
The deal, if approved by regulators and both companies' shareholders, is unlikely to mean much change for customers, but marks a continued trend of mergers and acquisitions in the U.S. wireless business.
Deutsche Telekom, after failing to gain regulatory approval to sell T-Mobile US to AT&T, instead acquired MetroPCS and combined the two into a publicly traded company. Sprint sold a majority stake in itself to Japan's SoftBank, while AT&T is in the process of trying to buy Leap Wireless, the operator of the Cricket prepaid brand.
With no U.S. holdings, Vodafone could itself become either an acquirer or a potential acquisition target itself. Having been thwarted from buying a major U.S. rival, AT&T has been said to be interested in non-U.S. telecom firms.