Apple Talks iPhone, but It's the 4S, Not the 5
More than 15 months after it launched the iPhone 4 at WWDC 2010, Apple is finally ready to unveil its successor.
Later this morning, the company will debut its latest iPhone, the fifth in the handset's history. Though it's not precisely clear what form it will take, most observers expect the fifth-generation iPhone to boast a dual-core A5 processor, one gigabyte of RAM, an improved camera, a dual-band GSM/CDMA chip that will transform it into a so-called "world phone" that can support multiple wireless network standards, and a rumored virtual personal assistant that arose out of Apple's 2010 acquisition of Siri.
Beyond that, we're likely to hear more about iCloud (which may steal the show) and its promise of a simple, seamless sync, iOS 5 and its nearly 200 new features, and perhaps an update or two to the company's long-running iPod line. We'll also get to watch newly installed CEO Tim Cook make his first big product introduction, an event that may well set the tone for his new role.
So join us here for what promises to be an exciting morning. Our live coverage begins at 10 am PT.
---
Live Blog
8:50 am: We have arrived on the scene at Apple's campus in Cupertino, Calif.
9:22 am: The real reason why they held the event in Cupertino: omelettes!
9:44 am: The doors have opened and attendees are filing into the auditorium to the sound of Eric Clapton's "Let It Rain."
9:48 am: Lots of tech luminaries in the audience here today. A quick scan of the room reveals Twitter CEO Dick Costolo, AT&T Mobility President Ralph de la Vega, Verizon chief marketing officer Marni Walden, longtime Apple analyst Charlie Wolf and newly minted Qualcomm COO Steve Mollenkopf.
9:54 am: Most of Apple's executive team — Phil Schiller, Eddie Cue, Bob Mansfield, etc., are now seated down front. The auditorium's pretty much filled to capacity. We should be starting any moment now.
9:58 am: Five minute warning.
10:00 am: The lights dim and here's Tim Cook, ready to deliver his first big product announcement. Lots of applause.
10:02 am: This is my first product launch as CEO — I'm sure you didn't know that. I love Apple, and I consider it a privilege to work here. I am very excited by this new role.
10:03 am: I want to welcome you to Apple and to this room, which has a particular significance for us. In this room we launched the MacBook Air and other products … this room reminds us of the innovations we've announced at Apple.
10:04 am: This is an extraordinary time for Apple, says Cook, before running through some metrics. He talks briefly about Apple's new store in Hong Kong, which recently launched.
10:05 am: Tim Cook is using Steve Jobs's playbook, beginning with a series of updates, starting with Apple retail. Apple just opened two stores in China — one in Hong Kong and one in Shanghai.
"There is amazing momentum here," Cook said, showing the all-glass staircase. "Only Apple could do this."
Also doing good business — it had the best Day One store performance of any store.
10:06 am: We sold more Macs on opening day in Hong Kong than we sold at any other store opening in the world, says Cook. Now a video documenting the launch of the Hong Kong store.
10:07 am: Cook steps back into the spotlight. "We now have six stores in China. We now have 357 stores in 11 countries.
10:08 am: Moving on now to product updates. First up, some thoughts on Lion. Cook cites Walt's review of Lion and his remark that it's one of the best operating systems ever. "I don't think I could have said it any better," says Cook. He adds that, to date, six million copies of Lion have been downloaded.
10:10 am: At the same time we announced Lion, we announced the MacBook Air. It's wicked fast. Our customers love it and our competitors are desperate to copy it, Cook says. The Mac and MacBook are the number one best-selling desktop and notebook in the United States.
10:11 am: More metrics, the Mac's installed base is approaching 60 million around the world.
In U.S. retail, says Cook, Macs are selling one out of four PCs.
10:14 am: Next up: Music. "It was only 10 years ago that iPod launched and it not only revolutionized the way we listen to music, but it revolutionized the entire music industry. It reminded us why we love music so much. It made music part of our lives again. … The iPod quickly became the number one music player in the world." To date, Apple has sold more than 300 million iPods.
10:15 am: Cook notes that the iPod is still an important business for Apple and the halo effect still remains strong. "The iPod is still a lot of people's first introduction to Apple."
Sixteen billion songs downloaded on iTunes.
10:15 am: Moving on to iPhone now. "This is probably why most of you are in the room today." Cook notes the device's extraordinary growth. Ninety-three percent of the Fortune 500 are testing or deploying the iPhone.
Customer satisfaction for the iPhone is very, very high, says Cook. "The iPhone is pummeling the competition." He cites the recent ChangeWave and J.D. Power customer satisfaction surveys.
10:18 am: Talking now about the iPad. "IPads are showing up everywhere. IPads in schools are helping kids learn in amazing new ways. … Every state in the U.S. now has an iPad pilot program or deployment. And almost 1,000 schools have a one-to-one program … About 1,000 universities across the U.S. have iPad programs."
10:20 am: "IPads are also showing up in airplane cockpits and in hospitals. Over 80 percent of the top hospitals in the U.S. are either testing or deploying iPads. … 92 percent of the Fortune 500 are testing or deploying the iPad."
A stunning metric considering the device has only been available for 18 months.
Three out of four tablets sold in the U.S. are iPads.
10:22 am: Nice. Cook name-checks ATD. "Consumers don't want tablets, they want iPads."
10:23 am: Cook welcomes Scott Forstall to the stage to talk about iOS.
"IOS is the number one mobile operating system with 43 percent of the market," says Forstall. He also notes that the iTunes App Store is the number one store for mobile apps. Customers have downloaded more than 18 billion apps to date. There are one billion downloads per month. Apple has now paid out more than $3 billion to developers.
10:25 am: Forstall talking about a new app called Cards. Allows you to create greeting cards on your iPhone or iPad. Apple will produce them and distribute them. "You make the card. We do the rest. … We'll even send you a push notification the day your card is delivered."
10:26 am: Price: $2.99 in the States, $4.99 internationally.
10:28 am: Now, a broad overview of iOS 5. Developers love it, says Forstall. He notes the OS has more than 200 new features, though he's only going to talk about 10. Notifications: iMessage, a new messaging service between iOS users. "IMessages are pushed to all your devices so you can start on one and pick up on another."
Next up, a brand-new app called Reminders. Offers location-based reminders via geo-fence. "Remind me to pick up my laundry when I leave work."
10:31 am: More: Twitter integration. "We've deeply integrated Twitter into iOS. You can tweet photos, Web sites from Safari, videos from YouTube."
Next up: Newsstand. "There are a lot of publications that are now building subscriptions for the iPad — the New Yorker, GQ, Vanity Fair. Newsstand organizes your subscriptions and downloads new issues in the background."
10:31 am: Moving on now to the camera, which Apple has also significantly updated. Better-quality photos and new ways to edit and improve them on your iPhone.
Next, Game Center: 67 million people are using Game Center. Apple has added friend discovery and game recommendations to the service, among other things.
10:34 am: Next up, Safari: Forstall talks briefly about Reader, which makes Web pages easier to read. He moves on quickly to tabbed browsing before jumping ahead to Mail, which has been enhanced with better search functionality, etc.
Now, PC-free. "There's no need for a computer. You take your iPhone out of the box and you can set it up." Also: wireless updates.
10:35 am: IOS 5 will be available as a free update on October 12.
10:36 am: Eddie Cue takes the stage to talk about iCloud. Quick overview of how iCloud manages photo storage and distribution. "It just works."
"Over a third of the music we sell in the iTunes store is purchased on iOS devices," says Cue. He notes that once iCloud launches, "songs purchased via iPhone or iPad on iTunes will automatically be downloaded to a user's Mac for no additional charge."
Moving on now to PhotoStream. "With PhotoStream, photos taken on your iPhone are automatically sent to iCloud and then pushed to your other devices. They even download right to iPhoto on your Mac."
10:38 am: Now, Documents In The Cloud. Same scenario. Documents synced to iCloud are updated across devices. Start editing on your Mac, continue on your iPad and finish on your iPhone.
10:39 am: More from Cue: "Buy a book on your iPad, start reading it, move to your iPhone and continue right where you left off."
Contacts and Calendars work the same way. Update once, update everywhere.
10:40 am: Find My iPhone has been updated to find Macs as well.
New app: Find My Friends. Locates family and friends via same sort of Find My iPhone mechanism. Timed location sharing. Easily locate friends and family, temporary sharing option, simple privacy controls and great parental restrictions.
10:42 am: Moving on now to iTunes Match. "With over 20 million songs, Apple has the largest music store in the world. We'll scan your music library and match it, and if we find something we don't have, we'll upload it." Again, the goal here is data ubiquity across devices.
ITunes Match is $24.99 per year.
10:45 am: Cue wraps up with a broad overview of all the iCloud services he just mentioned. ICloud ships on October 12. ITunes Match goes live closer to the end of the month.
Now, a video break. Promo for iCloud that touts the same features Cue just described.
10:46 am: Phil Schiller takes the stage to talk about iPod.
10:47 am: "We're still making great iPods. In fact, it's the best lineup we've ever made."
Apple's rolling out a few updates to the line today. First, the iPod nano, which has been made easier to navigate and enhanced with some fitness-related improvements, plus UI additions (new clocks, etc.). Mickey Mouse watch!
New prices, $149 for 16GB, $129 for 8GB.
10:50 am: Next up: the iPod touch. Schiller notes that the device is now the most popular portable game player in the world.
10:51 am: Schiller says iOS 5 and iCloud will bring tremendous upgrades to the iPod touch.
Apple's now offering a white version of the touch.
$399 for 64GB, $299 for 32GB, $199 for 8GB. They'll be available on the 12th.
10:53 am: Here we go. Moving on now to the iPhone.
10:54 am: "Despite competitors trying really hard to copy the iPhone," says Schiller, "they just haven't been able to do it. … How do you follow up a hit product like the iPhone 4? … With the iPhone 4S."
Retina display. Same design with metal band around exterior.
10:55 am: IPhone 4S will run on the same A5 chip that's in the iPad. Also up to seven times faster graphics, which will do some amazing things for games.
Mike Capps from Epic Games takes the stage. Talks about Infinity Blade and its forthcoming successor Infinity Blade 2. Amazing graphics. Dynamic Light Rays, something the company used in Gears of War, has been brought to the iPhone.
This is really impressive. Very cinematic, but running in real time.
10:58 am: Infinity Blade 2 will be available December 1.
10:59 am: Schiller returns to talk about battery life. Eight hours of 3G talk time, 10 hours of video, etc.
11:00 am: Moving on to the antenna, which now intelligently switches between two antennas to transmit and receive. Better call quality and faster data. Downlink speeds are double the iPhone 4: 5.8 up, 14.4 down.
Heard these numbers before? Schiller says these are the same numbers that rivals often claim are 4G.
11:02 am: As expected, Apple has unified its CDMA and GSM devices into a single world phone.
11:03 am: There's a new camera system as well.
"For the iPhone 4S, we set our sights on competing not with other phones, but with point-and-shoot cameras. … So we've added an eight megapixel sensor that shoots 3264×2448. … we've also added backside illumination with a sensor that gathers 72 percent more light. … On top of that we've placed a hybrid IR filter for better color accuracy … and we have a five-element lens that offers 30 percent more sharpness, f/2.4 aperture."
11:06 am: Built in to the camera: Face detection and better auto-white balance. The new camera is also significantly faster. Takes just 1.1 seconds to take a first picture and .5 seconds more to take a second.
"I don't know what Droid Bionic users do between pictures," says Schiller. "Get coffee, I guess."
11:08 am: Showing some photo examples now. Great sharp colors and detail.
11:09 am: Moving on now to video. The 4S shoots 1080p HD video. Some applause for that. Also features video image stabilization, temporal noise reduction.
Quick video demo. Hot air balloon ride.
11:11 am: Moving on now to AirPlay. Quick overview of the technology and then the news: Apple is bringing AirPlay mirroring to the iPhone.
11:12 am: Schiller wraps up by rehashing the announcements he's just made. He's really stressing iOS 5 and iCloud.
11:13 am: "But we really haven't discussed the best feature yet … it's all about voice."
New feature: Siri, an intelligent assistant that helps you get things done just by asking.
"What we really want to do is just talk to our device and we want to talk to it any way we'd like."
11:14 am: Schiller invites Forstall back on stage to do a Siri demo, but cautions that it's still in beta so things could go awry.
Forstall asks Siri, "What is the weather like today?" The phone replies with, "Here is the weather for today," and a screen detailing the weather.
11:16 am: "Do I need a raincoat?"
Siri: "It sure looks like rain today."
Siri actually understands the concept of "raincoat" and how it relates to weather. Pretty sweet.
11:16 am: "What's the time in Paris?"
Siri gives an accurate time and shows a clock.
"Wake me up tomorrow at 6 am."
Siri sets an alarm and tells the user that it has done so.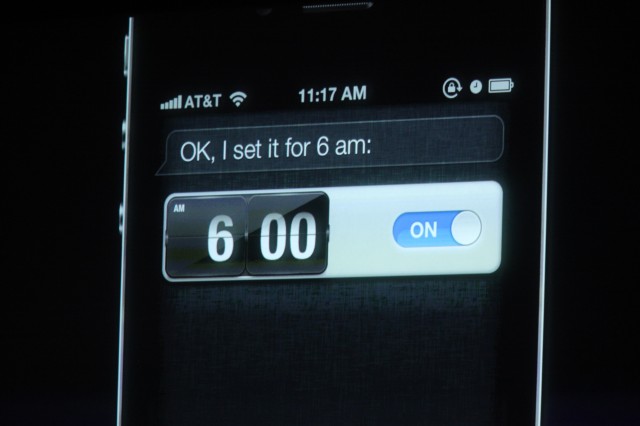 11:17 am: "How's the Nasdaq doing today?"
Again, an accurate vocal reply and a screen showing a market chart.
Apple has partnered with Yelp to integrate restaurant reviews. It has also integrated maps. "Give me directions to Hoover Tower." Siri provides them.
11:19 am: You can also ask Siri to read your text messages.
Forstall demonstrates an exchange in which he receives a lunch invitation, checks his calendar, and sends a reply to the original sender with a suggested date for lunch. This is all done hands-free, simply by talking to the phone.
11:21 am: "Remind me to call my wife when I leave work."
Siri creates a reminder with a geo-fence so that when he leaves work, it will remind him to call his wife.
11:22 am: "Search Wikipedia for Neil Armstrong."
Siri heads right for Safari and pops the Armstrong page on Wikipedia.
Apple has also partnered with Wolfram Alpha to do dictionary searches, calculations. "Define mitosis." "What's the exchange rate on the Euro right now?"
11:24 am: "How many days until Christmas?"
Eighty-two, in case you were wondering.
11:24 am: Forstall notes that you can't use Siri to do everything, but you can use it to do a pretty broad spectrum of things — call people, create reminders, compose and dictate email, traffic and directions, weather, stocks, set timers, contacts, search Web, create notes, search "wolfram alpha."
"Who are you, Siri?"
"I am a humble personal assistant."
11:27 am: Schiller returns to the stage. He adds that Siri takes dictation, before noting that the service is both contextual and conversational.
When iPhone 4S launches, Siri will be available in English, French and German, with more languages to follow.
11:28 am: Now, another video.
Typical Apple reel with the company's executive bench talking about the design and development of the iPhone 4S.
11:32 am: For more on Siri, check out this story.
11:30 am:
iPhone 4S
64GB for $399
32GB for $299
16GB for $199
iPhone 4 will now be available for $99, 8GB only.
iPhone 3GS, 8GB for free.
Very aggressive pricing.
IPhone 4S preorders begin Friday. The phone will ship on October 14.
11:35 am: IPhone 4S will be available on AT&T, Verizon and, yes, Sprint.
When the rollout is done the iPhone will be in 70 countries, on 100 carriers.
11:36 am: Cook returns to wrap things up with another overview of the morning's news.
"When you look at each of these things, they're industry-leading in and of themselves, but what puts them out front is how they're engineered to work together so well. Only Apple can make such powerful hardware and services like this and bring them together. I am so proud of Apple and all the people that worked so hard to make these things a reality."
And with that, he leaves the stage.
And so ends a workmanlike job by Cook in his first big product introduction. But you can't help but miss the showmanship that Jobs always brought to these events; he would have made the Siri technology explanation really sing.
The event's over. Thanks for reading.
RELATED POSTS: